Sell or Trade Your Car near San Antonio TX

---
If you're looking to sell or trade your car near San Antonio, Texas, the Northside Honda team is here to help. We are happy to purchase your old vehicle or assist you with trading it in for a newer model. We accept a variety of pre-owned cars and will gladly provide you with a quote for yours.
Trade-In Options

A trade-in is a great way to get a new or pre-owned vehicle. Trading in your current car will help you put more money down towards your dream car.
To start the process, you can obtain an estimate for your current car using our online Value Your Trade tool. All you'll need to do is enter basic information about your vehicle. Once you submit, one of our team members will contact you to proceed.
You'll be able to schedule an appointment to take your vehicle to our dealership, pick out the car you want, sign the paperwork, and be on your way.
Moreover, we'll work with you even if your credit score is less than ideal. With us, you can easily trade your car no matter your credit. Our financial specialists can go over your payment options so that you are confident moving forward.
Selling Your Car near San Antonio TX
Once you decide to sell your car near San Antonio, Texas, our staff will help you do so. Selling your vehicle to us is much like trading it in. The only difference is that you won't be picking out another car to drive off in. Instead, you can use your payment towards whatever you like.
Similar to a trade-in, you can find the value of your vehicle using our online Value Your Trade calculator. After speaking with one of our representatives, you'll be able to come in and drop your car off. You will exchange your keys and title for a check.
Exploring New and Used Car Options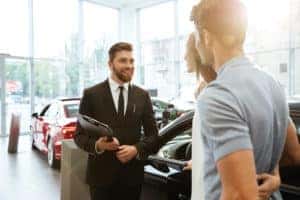 Once you've traded in your car you can explore our wide selection of new and pre-owned vehicles. Our lot is stocked with SUVs, trucks, sedans, and more to suit your needs.
You might be interested in our selection of sporty models like the Honda Civic Type R that can achieve 306 horsepower. If you need something more family-friendly, you can check out the Honda CR-V. This SUV has enough room for your whole family as well as standard all-wheel-drive when it's time to escape the everyday.
On the other hand, you may be ready to step into the future and make the switch to a hybrid vehicle. If that's the case, we are happy to show you our selection of hybrid options, like the Honda Insight sedan and the Honda CR-V hybrid SUV.
Historic San Antonio, TX
San Antonio, Texas, is a historic city that beautifully combines old and new architecture and culture. There, you can spend a whole day strolling the famous River Walk. For a bite, you can stop at any number of the great restaurants there, like Biga on the Banks or Cafe Olé.
To get in touch with your adventurous side, you can take a guided tour of the Natural Bridge Caverns. Here, you'll go deep into the earth to explore cavernous passages.
---
Trade-In or Sell Your Car near San Antonio, TX
Trading in or selling your car in San Antonio, Texas, is easy when you work with Northside Honda. Our sales team will match you with your dream vehicle and our finance department will work with you to find the right payment plan.
Reach out today and be one step closer to your ideal Honda.