2019's Top Spring Events & Food Festivals in San Antonio
It's spring in San Antonio, which means one thing: food festivals, of course! From crawfish to BBQ to authentic Asian cuisine, the treats at these San Antonio foodie events should have your mouth watering. So, grab your fork because it's nom nom time.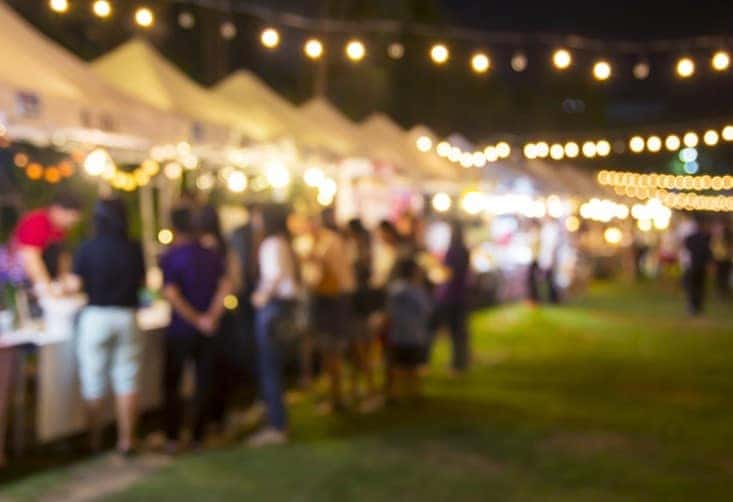 March Events & Food Fests
Fredericksburg Crawfish Boil (March 16)
The Stable Cocktail Bar hosts this free March event on Saturday, March 16. With live music, a full bar, and as much crawfish as you can eat, how can the night go wrong? Check their Facebook page for more details.
Big Texas Fun (March 22-31)
Part food festival, part carnival, Big Texas Fun in Selma is one of the largest family events of the year. Activities include a Super Hero 5K, pirate-themed treasure hunt, IBCA BBQ cook-off, crawfish boil, and a We Will Rock You Tribute Fest that will probably rock you. Tickets start at $20 and can be purchased through their website.
10th Annual Corona Paella Challenge (March 24)
San Antonio's paella all-stars are readying their pots for this March 24 competition. Professional, amateur and high school chefs will go head-to-head in a paella cook-off, with the winner being crowned the best darn paella-er in Texas. Order your tickets online at paellachallenge.com.
Festival of India (March 30)
This free food festival is a yearly San Antonio tradition. Taste of authentic Indian cuisine, sip some teas, and dance to live music like no one's watching (but many, many people will be). The Taste of India event is hosted at La Villita and will begin at 4 PM on Saturday, March 30. Get more info here.
Canyon Lake Dam Festival (March 30)
Take a trip to Canyon Lake, TX, for an all-day extravaganza of food, family fun, sports, and an early-morning 5k race. Proceeds from the Dam Festival will benefit the Canyon Lake Hawks Youth Football team. Grab your tickets at the Canyon Lake Dam Festival's FB page.
April Events & Food Fests
Soul Food Celebration (April 6)
Held at the S.B.C. Center from 6 to 10 PM, Soul Food Celebration will serve diners authentic southern meals, made with love. A mini fashion show, silent auction, a live band, and several local vendors are also on the schedule. Tickets begin at $35 and can be purchased here.
Taco Festival (April 13)
You had us at "Taco." This 2nd annual food fest in San Antonio will be held on Saturday, April 13, from noon till 11:00 PM. Go to town on some delicious crunchy tacos and relax—life doesn't get any better. Just $20 gets you inside, where over 30 taco vendors will be serving $2 tacos. Purchase your tickets at https://tacomusicfest.com.
Crawfish Boil & Rib Rumble Fiesta (April 18)
Supporting the Children's Craniofacial Associate, this Live Oak crawfish festival will serve thousands of hungry guests at Quartermain's Pub on Thursday, April 18. Tickets start at $15, which grants you full access to the event's music, games, and food, as well as the chance to win a big raffle prize. View their Facebook event page for additional information.
Taste of the Northside (April 24)
Brighton Center's annual Taste of the Northside food festival invites you for an evening of tunes, drinks, and unlimited food tastings from some of San Antonio's best restaurants and chefs. Head to www.brightonsa.org for more details about this San Antonio event and to order tickets ($85).
Texas Eggfest (April 27)
This 18th annual food festival in Driftwood, TX, celebrates everything having to do with eggs. More than 1500 experts – or should we say "eggs-perts? – will be on tap, dishing out their favorite meals, leading cooking classes, and pairing craft beers with every conceivable preparation of egg. Kids are free and adult tickets start at $15. View more details at www.texaseggfest.com.
Medieval Fest (April 27)
Knights and men-at-arms will clink swords against armor at April's Medieval Fest in Seguin. But that's not all! As the battle commences, you can enjoy a fresh supper of braised beef, pork, potatoes, and some delicious desserts. Oh, and if you come clad in your own medieval apparel, you'll get a free glass of mead! Sounds like a plan to us. Buy your tickets through the Texas Mead Works Facebook page.
Crawfest in New Braunfels (April 27-28)
Your stomach is going to be mighty full on April 27th, as there's yet another food festival to attend at the Comal County Fairgrounds in New Braunfels. Treat yourself to live music, a 5k race, camping, a gumbo cook-off, and a super-fun crawfish eating contest. It's one of the best food festivals and spring events near San Antonio! Check out crawfishfestivalnewbraunfels.com for activity times and to buy your tickets.
Calendars marked? Good. Just be sure to bring your appetite.

About Northside Honda of San Antonio
Our San Antonio Honda dealership is located at 9100 San Pedro Ave and serves drivers throughout the Greater San Antonio region, including New Braunfels, Boerne, San Marcos, and Schertz. As one of the largest and best-reviewed car dealerships in the area, we proudly help our customers find their perfect new Honda or used car at a low, low price.  Contact us at (210) 944-1065 to discuss your auto financing options, schedule a Honda service appointment, or speak with a member of our Honda sales team.